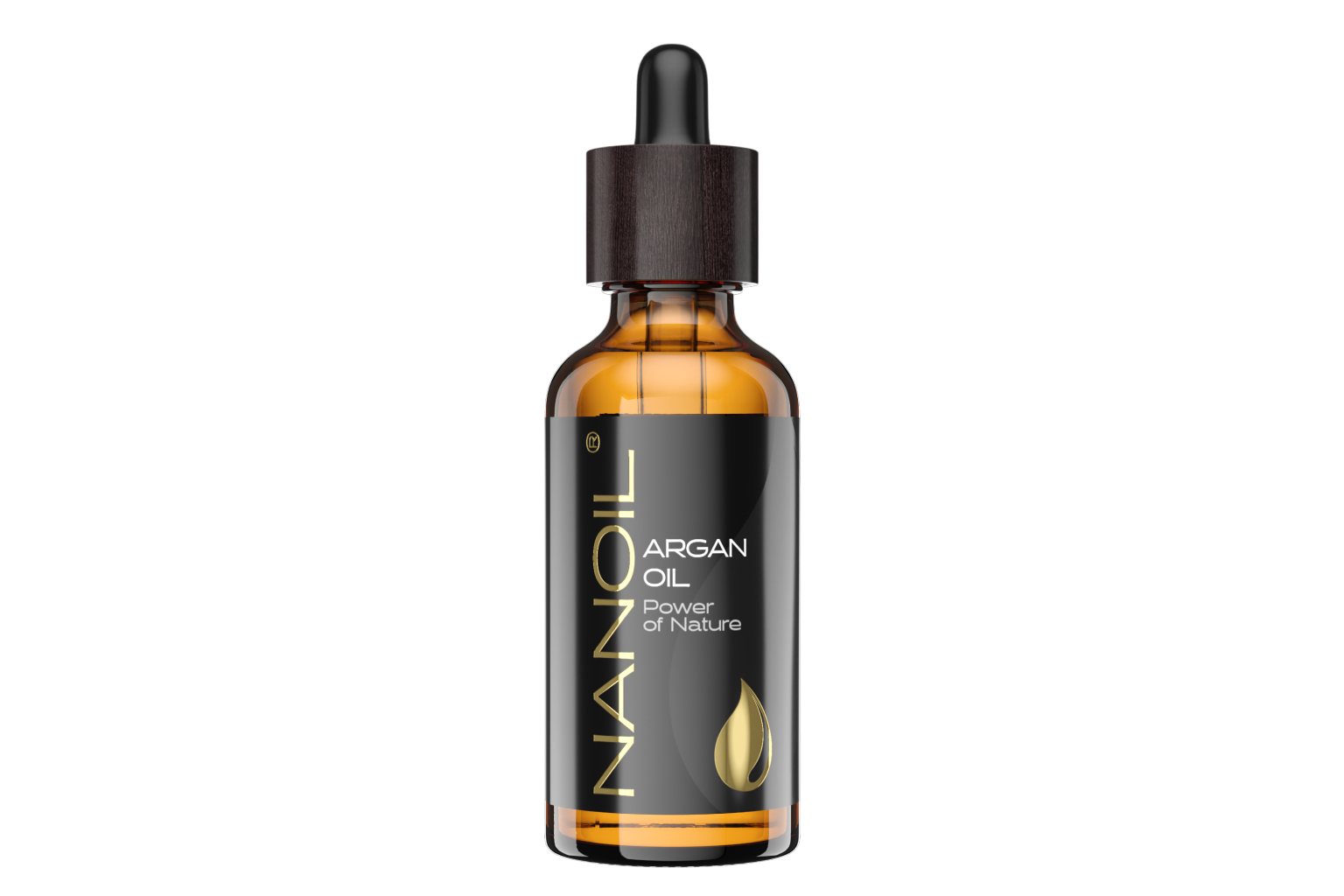 Hair type: all
Problem: hair thinning, dull shade, poor condition of hair and scalp
Solution: Nanoil Argan Oil
100% organic, pure, without any additives or silicones, unrefined, cold-pressed argan oil bearing the Ecocert seal. That's what you get from Nanoil. Perfect hair as well as skin care (body, face, nails).
Nanoil Argan Oil is a remedy for weak, thin, sensitized hair which reacts to changing weather, seasons, new products. It's often frizzy, split, tends to fall out in excess. You can use this very oil to condition normal hair, intensifying its shine and improving the looks in just 15 minutes. The oil smoothes hair, repairs throughout its length whereas applied to scalp, it strengthens follicles, stimulates growth as well as stops hair loss.
What other effects can you expect Nanoil Argan Oil to give? Take it on summer holidays: it delivers sun and heat protection. Use it to repair damaged hair: argan oil strengthens, repairs and reconstructs. Rebeautify your hair in a snap: argan gives healthy shine, makes hair silky smooth and incredibly soft. Also, keep your hair young with Nanoil Argan Oil: it neutralizes free radicals and rejuvenates. Moreover, Nanoil makes hairstyling routine run smoothly even if your hair tends to tangle and resists styling.
How to use Nanoil Argan Oil?
To be honest, it's totally up to you. Use the right amount to treat your damaged hair but try it in body and face care as well. This oil beats most of the popular products such as serums, conditioners or masks.
It is one-size-fits-all oil. Apply it to dry or wet hair, before or after washing, rinse after half an hour or leave in overnight and wash hair in the morning. Still, it's just a small percent of its potential.
Remember that Nanoil Argan Oil can be used solo as well as it acts as component of home beauty products e.g. base for face or hair repair mask, massage lotion or anti-cellulite booster.
What's inside Nanoil Argan Oil?
EFAs – Essential Fatty Acids – are the highlight of this product. To be more precise, it's their perfect proportion that matters the most. Argan oil ensures balance of omega-3 and omega-6 acids as well as abounds in vital omega-9 oleic acid. This set of ingredients affects the work of cells: their repair, nourishment, condition and appearance.
Apart from EFAs, we must mention vitamin E, that is tocopherol, essential for healthy skin and hair. This high concentration of the vitamin is found only in argan oil which turns out to beat even olive oil in this respect. Vitamin E, or the vitamin of youth, is always a key element of daily beauty regimen. It's most important for weak, aging and colour-treated hair, protecting against damage, repairing, conditioning and enhancing its color.
Pure, cold-pressed argan oil keeps all precious ingredients so Nanoil is filled with plant sterols (phytosterols)- natural ingredients in cell membrane. Also, sterols stimulate synthesis of collagen and elastin – two main proteins of youth. The oil abounds in flavonoids – strong antioxidants which prevent premature ageing and additionally beautify hair and skin. There's also squalane which makes up protective lipid coat of skin, stimulates growth of cells and acts as excellent hair conditioner. β-Carotene in Nanoil Argan Oil is, on the other hand, a strong antioxidant strengthening skin's immune system. Moreover, argan oil is rich in butyrospermol – sun protecting ingredient.
Squalane, lutein and a set of essential anti-free radical polyphenols (natural phenolic compounds) are also present in Nanoil Argan Oil. They have a significant effect on the growth, condition and intense colour of hair.
Must-know: Nanoil Argan Oil is one of the most wanted beauty oils. Excellent opinions result from the fact it's not merely a hair product – it's an effective face and body treatment as well as therapy for damaged nails.
Fun fact: Argan oil contains approx. one hundred active substances which actively enhance skin as well as hair care and repair.
PROS:
it's all-purpose
it has the Ecocert seal
it's organic, cold-pressed, unrefined
its price corresponds to quality
it has larger size (50ml) than regular natural oils (30ml)
it strongly repairs and nourishes
it moisturizes. protects skin and hair
it upgrades appearance of hair in just fifteen minutes
CONS:
glass bottle might break
it is available only at online store