There are lots of hair oiling methods. Traditional hair oiling and hot oil treatment are the most sought-after. Many girls say that both methods are highly effective. Which one are you going to choose?
Test each of them but bear in mind that you should decide on the one that will be beneficial to your hair and scalp.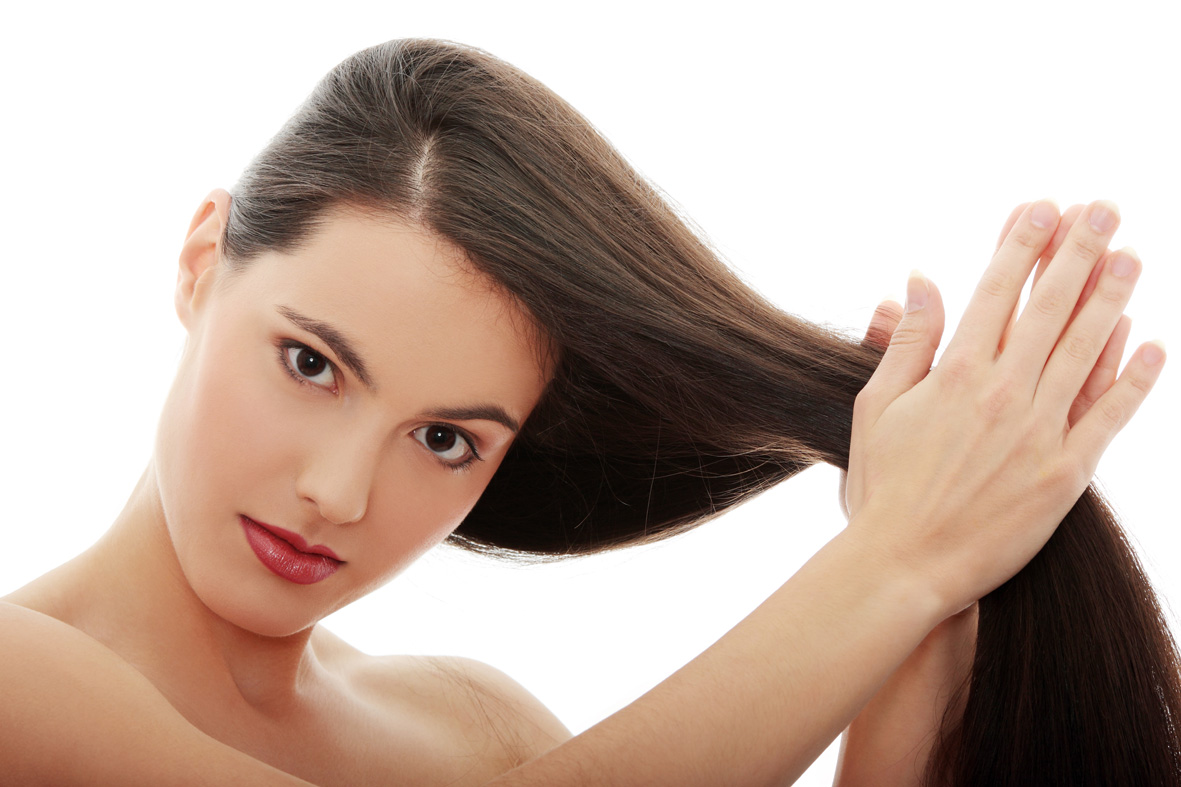 Traditional hair oiling
Hair oiling is an intensive treatment that stimulates hair growth, improves its condition, regenerates damaged strands and soothes the scalp. Finding a suitable cosmetic oil is not that easy but there is one sure thing: do not use ready-made oil blends. Their ingredients aren't necessarily chosen in respect to hair porosity. It is a far better idea if you match a product to your hair type on your own.
DRIP, DRIP… What amount of oil is suitable?
It is not possible to define an exact amount of oil that should be applied to hair. The quantity is completely different for long and dense or short and fine hair. You can use a few drops or a few tablespoons of the oil. It's up to you. When you oil your hair for the first time, apply as little as possible. You can increase the dose during next treatments.
TIC-TAC… How long should you keep the oil on your hair?
There is no fixed rule either. The time the oil should lie on your hair depends on how damaged it is, how quickly it absorbs water and cosmetics and whether it needs intensive repair. Time of oiling should be also matching the length and volume of hair. 30 minutes should be enough for short hair whereas long and thick hair will need several hours. Some girls leave the oil in for the whole night and wash hair in the morning.
Which products should be used for washing the oil away?
It depends on the formula of the cosmetic. SLS shampoos or good conditioners are the best for washing down dense and heavy products. Mild shampoos can be used to wash away oily mists and lightweight formulas. Keep in mind that the more oil you apply, the more time you will spend washing your hair and more cleansing shampoo you will use. As everyone knows, such products make the scalp dry.
Before doing hot oil treatment, pick the best product. The most suitable oils for this kind of hair and scalp treatment are: jojoba, coconut, sesame, avocado. You can also enrich their action with herbs. Remember to choose the ones that are good for your hair colour. Why is it important? Some herbs can darken or lighten the strands.
nettle, black tea, ground coffee, rosemary and sage emphasize natural hair colour;
camomile, rhubarb, marigold and clove are ideal for blondes;
hibiscus, red clover and camomile work excellently in red haircare;
rosemary, parsley, sage, nutmeg and witch-hazel lighten up the shade of your strands.
Do you know that:
If you want to strengthen your hair, use: camomile, nettle, horsetail, burdock or arnica. Marigold, camomile, lavender, dried rose petals and aloe vera deliver moisture. How to stimulate hair growth? Use pepper mint, parsley, horsetail, sage, camomile, ginger or cinnamon. You can use many more substances in hair oiling. For example: fruit, essential oils or Indian herbs. Check how banana, avocado or lemon juice will work for your hair. Try out neem oil, rose oil, aloe vera juice, carrot seed oil, white clay.
How to do hot oil hair treatment?
Prepare all necessary tools: shower cap, towel, hot water and mixture of oils. Mix three tablespoons of oils, and one or two teaspoons of herbs. Add other ingredients that you have chosen. Such a mixture can be stored for as many as six months. Next, put a jar filled with oils into a bowl with hot water in order to heat the beauty mixture up. Make sure the water is not too hot to avoid burning your scalp, ear and hands. Two minutes is enough to warm it up.
Apply the oil to the scalp. Massage the scalp while oiling to improve blood circulation, enhance absorption of the ingredients, strengthen hair follicles and simply relax. Massage the scalp for about five minutes. Be careful: too thick layer may be hard to wash down; too large amount can make the scalp greasy.
Then, put on a shower cap. If you plan on regular hot oil treatments, buy more caps; you can use them up more quickly due to the hot oils and colouring herbs. For even better effects soak the towel in hot water and put it on the head. The heat produced under the towel speeds up the process of hair repair.
After more or less two hours, take the towel off and wash the hair thoroughly. During first wash, use very warm water to open skin pores and allow ingredients of the oil for even more effective absorption. You can use the shampoo twice but keep in mind that it mustn't include drying substances and detergents. Use cold water for the final rinse to close skin pores and hair cuticles. Blow-dry or air-dry.
Traditional hair oiling and hot oil treatment – effects
You don't even realize that traditional hair oiling and hot oil treatment bring excellent effects. They affect both hair and scalp. What are the benefits of the treatment?
rebuilds damaged hair, repairs split hair ends
delivers nutritional and active ingredients, allows to maintain proper hydration and keratin level in hair
adds lustre, protects hair colour and defines natural hair colour
smooths, prevents static and frizz, tames unruly strands
protects against UV rays and during heat styling
speeds up blow-drying, detangles and makes styling easier
helps to fight various skin diseases
stimulates hair growth, prevents hair loss, makes hair follicles strong
If you desire your hair to look this way, go for hair oiling. What are you waiting for?